8 Best DSLR Microphones for Creating Stunning Video Content
Table of Contents
Introduction
It's simple to overlook the enormous impact of audio quality in the constantly changing world of multimedia, where visual brilliance generally takes center stage. However, any serious film enthusiast or content creator is aware that audio may capture or lose a viewer's interest. DSLR microphones are the unsung heroes of the world of video creation, subtly converting routine videos into captivating auditory experiences. This post starts off with an exploration of the best DSLR microphones, highlighting their significant function, diverse types, and a hand-picked selection of the top models designed to enhance the soundscapes in your videos.
Types of DSLR Cameras Microphones
Imagine a monotonous world without diversity; that is, at best. Similar to DSLR cameras, there are numerous varieties of DSLR microphones, each designed to function in a specific setting. The landscape is adorned with shotgun microphones, lavalier microphones, and stereo camera microphones, giving filmmakers a variety of tools with which to paint their aural canvases.
The industry standard shotgun microphone gathers audio in a specific direction, making it ideal for reducing background noise and identifying the intended sound source. Contrarily, lavalier microphones are discrete and attach to clothing to record clear audio directly from the speaker. Stereo camera microphones capture the depth of the soundscape and accurately capture the atmosphere and sense of space.
Each style has advantages and disadvantages that are specific to certain audiovisual environments. A private interview benefits from the intimacy of a lavalier whereas a busy metropolitan street necessitates the accuracy of a shotgun microphone.
Important Considerations for Selecting a DSLR Microphone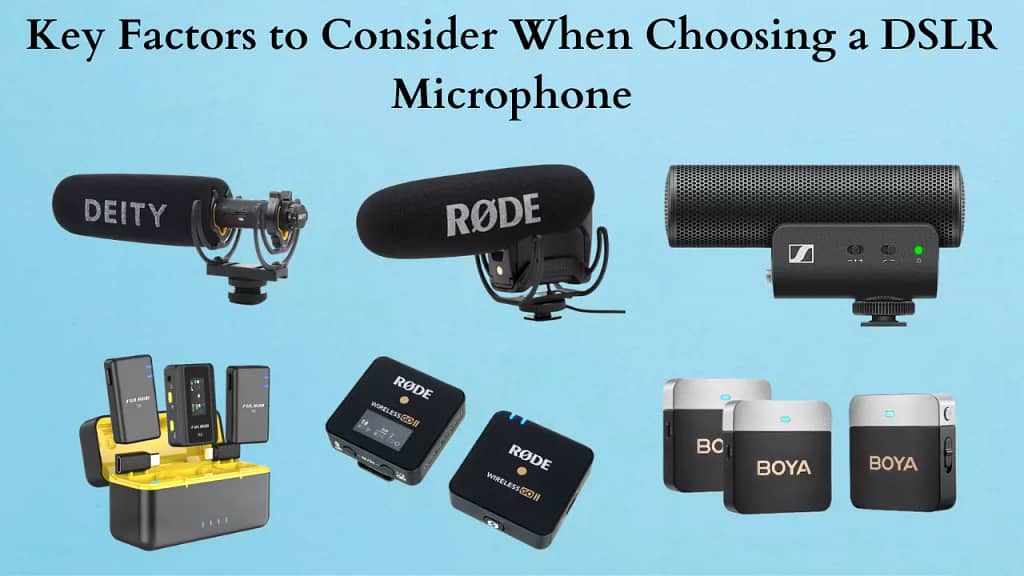 In a sea of options, choosing the best DSLR microphone is like picking a travel companion for your artistic adventure. Sensitivity and signal-to-noise ratio, directionality and polar patterns, and DSLR camera compatibility are the three most important characteristics.
The foundations of high-quality audio are sensitivity and signal-to-noise ratio. The distinction between amateur and professional-grade sound can be made by a microphone's capacity to pick up minute details while removing unwanted background noise.
The way a microphone picks up sound depends on its polar and directional patterns. Recognizing these patterns is essential whether you need to record the background noise of a beautiful landscape or isolate a single voice in a crowded environment.
Lastly, seamless integration is ensured by DSLR camera compatibility. You may concentrate on your creative process by streamlining your workflow with a microphone that complements the features and connectors of your camera.
The best 8 choices that guarantee unequaled audio quality for your recordings are revealed in the following sections, which are the crown jewels of DSLR video camera mics.
The Top 8 DSLR Microphones for Outstanding Video Sound
When it comes to picking the best DSLR microphones, the market is overflowing with choices. Here are the top 8 options, each of which is distinguished by superb audio quality:
CVM-V30 PRO Shotgun DSLR Microphones by Comica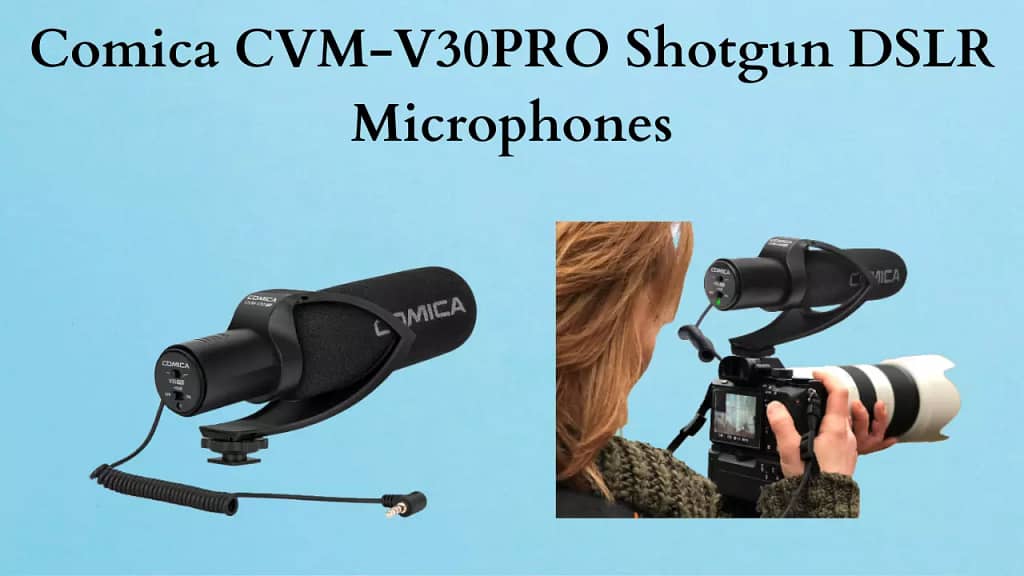 Strong shotgun microphone the Comica CVM-V30PRO is made to improve audio in video production. This microphone, which is loaded with capabilities and designed for performance, stands out as the top choice for content producers looking for excellent audio capture.
In-depth Features:
Super-Cardioid Polar Pattern: The super-cardioid polar pattern prioritizes frontal sound capture while minimizing side and backward sound. This makes it excellent for removing unwanted ambient noise and isolating the target sound source.
High Sensitivity: The CVM-V30PRO's sensitivity of -33dB2dB allows it to pick up even the most minute details in audio, resulting in rich, clear recordings.
Built-in Low-Cut Filter: The built-in microphone low-cut filter improves audio recordings by removing low frequencies noise, such as wind noise rumble, and handling vibrations.
Gain Control: You may adjust the gain to accommodate various recording settings and sound sources thanks to the microphone's +10dB sensitivity augmentation lever.
Specifications:
Response to Frequency: 40Hz–20kHz
Signal-to-Noise Ratio: at least 70 dB
The impedance at output: 2.2k ohms
2 AAA batteries are required (not included).
Size (DxL): 46 x 256 mm
Size: 145g
DSLR Microphones Deity V-Mic D3 Pro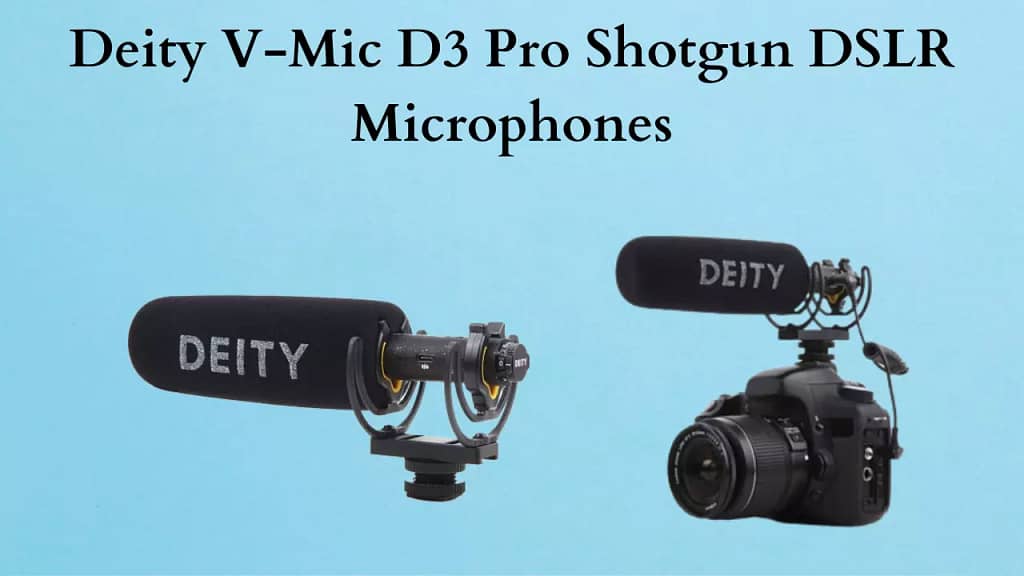 The Dity V-Mic D3 Pro is a shotgun microphone of the highest caliber used by professionals to record audio for videos. The V-Mic D3 Pro has made a name for itself as a top contender in the DSLR microphone market because of its cutting-edge features and strong track record of dependability.
Detailed Features:
Smart 3.5mm Headphone Output: The headphone output is one of the unique characteristics. You can assess the calibre of your recordings as you're filming thanks to the real-time audio monitoring provided by this.
Super-cardioid polar pattern reduces noise from the sides and back while emphasizing front sound capture. This results in precise and crystal-clear audio recordings—even in noisy environments.
High-pass filtering and high-frequency response amplification are integrated into the digital switch of the V-Mic D3 Pro. This allows you to alter the microphone's reaction to different situations, adding variety to your recordings.
Low Self-Noise: With a self-noise level of only 12dB (A-weighted), the DSLR Microphones record clear, crisp audio without adding unwanted noise to your recordings.
Specifications:
50Hz–20kHz frequency response
Sensitivity ranging from -24 dB to -44 dB
The signal-to-noise ratio of 84 dB
At-output impedance: 200 ohms
Battery: Internal rechargeable lithium-ion cell
21 mm x 101 mm in size (DxL).
Size: 143g
VP83F Shotgun DSLR Microphones by Shure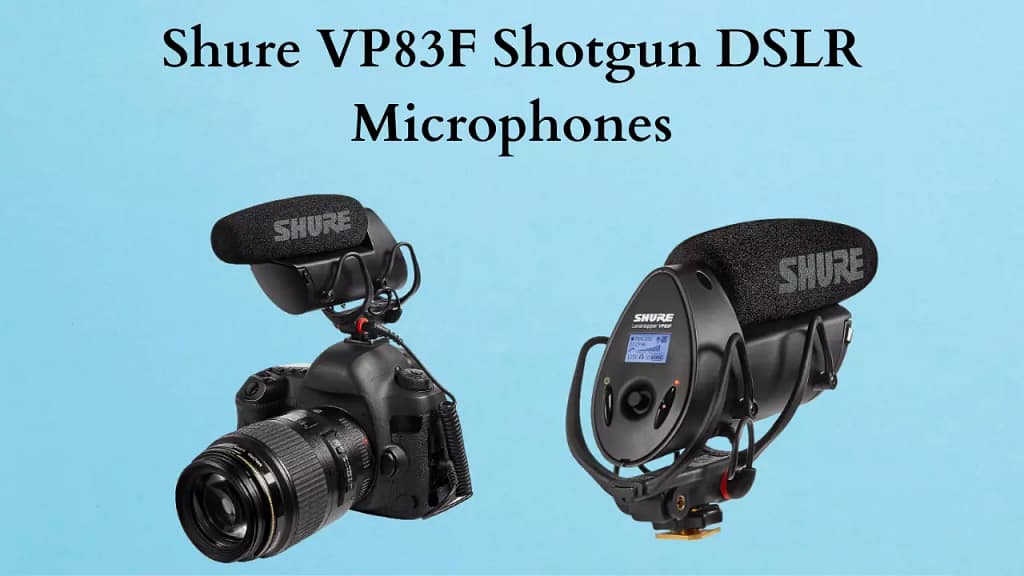 A shotgun microphone called the Shure VP83F was created to meet the demands of content creators looking for better audio quality for their DSLR video projects. The Shure VP83F, which is renowned for its dependability and innovative features, stands out as a flexible option for those looking to record high-quality audio.
In-depth Features:
Digital Flash Recorder Built-In: The VP83F has a unique feature called a built-in digital flash recorder. This enables you to simultaneously record video on your camera and record audio directly to a microSD card.
The super-cardioid polar design excels at isolating sound from the front while minimizing unwanted noise from the sides and rear. This ensures that the audio source you've chosen stays distinct and prominent.
Three selectable EQ presets are available on the microphone: flat, low-cut, and high boost. By doing so, you can modify the microphone's response to various settings and sound sources.
High Quality Construction: The VP83F's all-metal construction and durability make it suitable for the rigors of field recording.
Specifications:
Response to Frequency: 50Hz–20kHz
-35 dBV/Pa (17.8 mV) of sensitivity
75 dB Signal-to-Noise Ratio
The impedance at the output: 145 ohms
AA batteries have a battery life of up to 10 hours.
Dimensions (LxD): 210mm x 48mm
Size: 133g
VideoMic Pro R DSLR microphones By Rode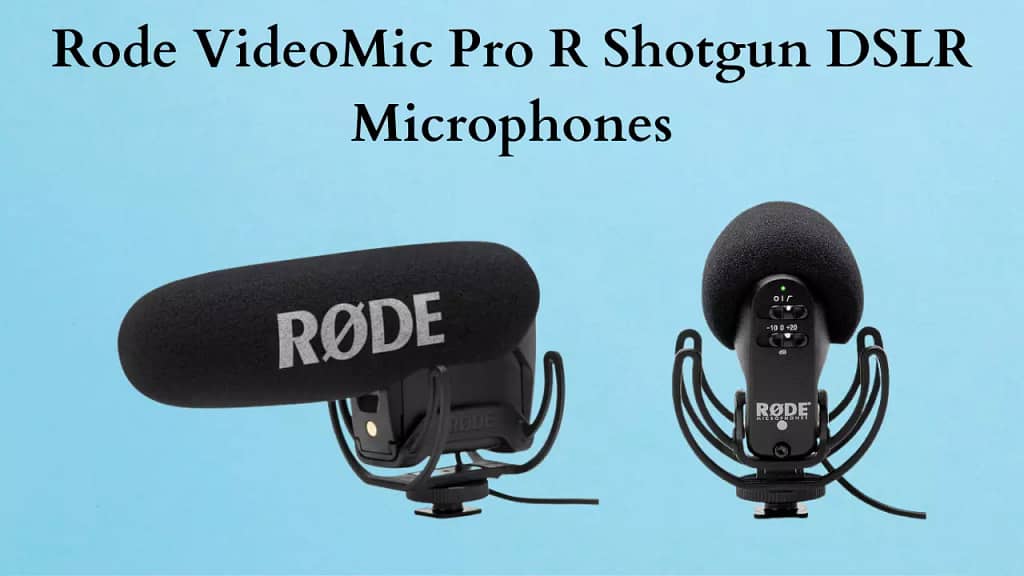 Shotgun microphones like the Rode VideoMic Pro R have a solid reputation among content producers because of their combination of portability, excellent audio quality, and compact design. Let's examine its attributes, details, and practical performance.
In-depth Features:
Compact Form Factor: The VideoMic Pro R is a wonderful companion for DSLR cameras and small camcorders because of its small size, which doesn't add bulk to your setup.
Rycote Lyre Suspension technology: This ground-breaking suspension technology isolates the external microphone from tremors and manages background handling noise, producing audio recordings with greater clarity.
Directional Sound Pickup: The rode videomicro microphone's super-cardioid polar pattern focuses on capturing sound from the front while reducing unwanted background noise from the sides and behind.
Integrated Shock Mount: The new videomicro microphone has a built-in shock mount that reduces mechanical noise and vibrations even more, allowing for crystal-clear audio capture.
Specifications:
Response to Frequency: 40Hz–20kHz
Sensitivity: -32.0 dB at 1 Volt/Pascal (20 mV at 94 dB SPL) +/- 2 dB at 1 kHz
82 dB SPL (A-weighted according to IEC 651) is the signal-to-noise ratio.
The impedance at output: 200 ohms
Battery life: Up to 70 hours on a 9V alkaline battery or lithium battery
Dimensions (HxWxD): 111mm x 65mm x 170mm
85g in weight
Related Articles
Top 5 Shotgun Mics for Crystal Clear Recordings
8 Perfect Microphone for Vlogging: Upgrade Your Vlogs
10 Best XLR Microphonеs vs USB Microphones: Pros and Cons
Professional MKE 400 shotguns DSLR microphones By Sennheiser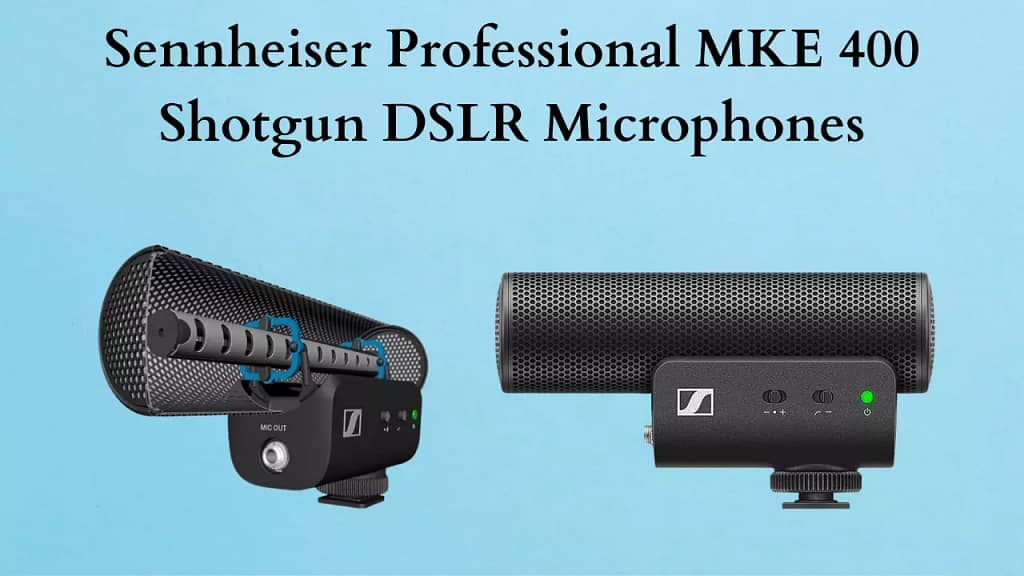 Shotgun microphone Sennheiser Professional MKE 400 is renowned for its small size, robust design, and superb audio quality. This external microphone will appeal to content producers who need high-quality sound capture for their DSLR video productions.
Detailed Features:
Compact and Lightweight: The Sennheiser DSLR Microphones MKE 400 is a great choice for shooting on the go without adding extra weight to your camera setup due to its small size and lightweight design.
Super-cardioid polar pattern reduces undesired side and rear wind noise while concentrating on catching sound from the front. By doing this, you may be confident that the audio source you want is the main focus.
built-in shock mount: The microphone includes a built-in microphone shock mount that efficiently cuts down on handling noise and vibrations, resulting in higher-quality audio recordings.
All-metal construction: The Sennheiser MKE 400 was built entirely out of metal and was built to endure the rigors of field recording and outdoor filming.
Specifications:
40Hz–20kHz response to frequency
The sensitivity (at 1kHz) is -28 dB re 1V/Pa.
The signal-to-noise ratio with an A weight is 58 dB.
750 ohms of output impedance
The battery life: AAA batteries give 300 hours.
Dimensions Size: 130mm x 21mm x 62mm.
60g in weight without the battery
Rode Wireless GO II DSLR Microphones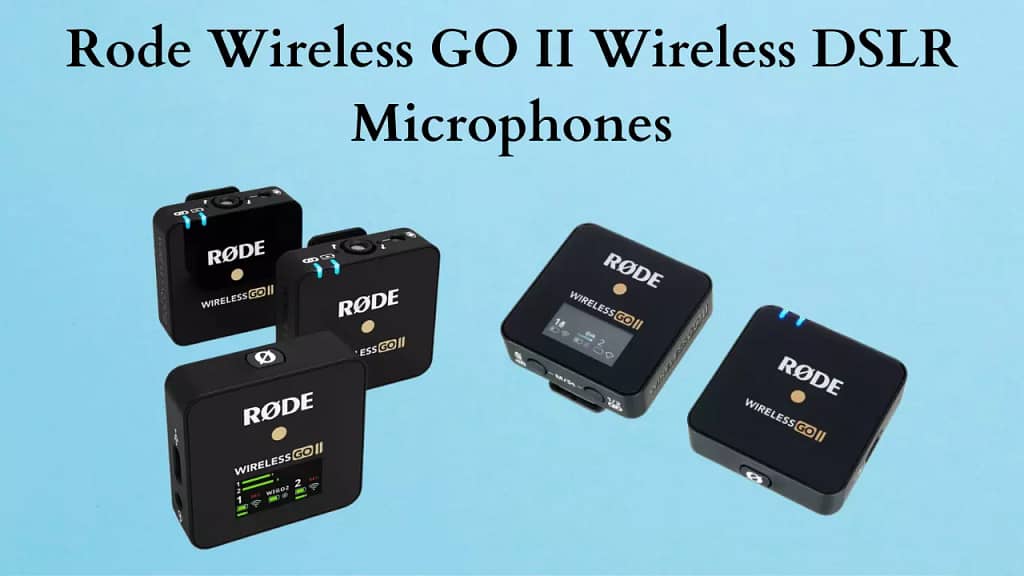 A portable, customizable wireless microphone system called the Rode Wireless GO II was developed to make it easier to record audio for DSLR movie productions. Thanks to its enhanced capabilities and straightforward operation, the Wireless GO II is a game-changer for wireless music.
Detailed Features:
The Wireless GO II DSLR Microphones come with two transmitters and one receiver, allowing you to record audio simultaneously from two sources. This is perfect for recording audio during interviews, conversations, or from different perspectives.
Because they may be discretely attached to clothing, small clip-on transmitters are ideal for capturing crystal-clear audio from presenters, interview subjects, or content creators who are on the move.
Up to 24 hours' worth of audio can be stored in each transmitter's built-in memory for subsequent listening. You won't miss any significant events thanks to this backup recording, even if the receiver isn't attached.
Rechargeable Batteries: The USB-C rechargeable batteries are built into both the transmitter and the receiver, making them more convenient and eliminating the need for disposable ones.
Specifications:
Response to Frequency: 50Hz–20kHz
100 dB signal to noise ratio
Operating Range: Line of Sight Up to 200m
Up to 7 hours of battery life (both transmitter and receiver)
Transmitter dimensions: 44 mm x 45.3 mm x 18.5 mm
Receiver's dimensions size: 44mm x 46.4mm x 18.5mm.
32g (Transmitters) in weight
31g, the receiver's weight
DSLR Microphones BOYA BY-M1V2 Wireless Lavalier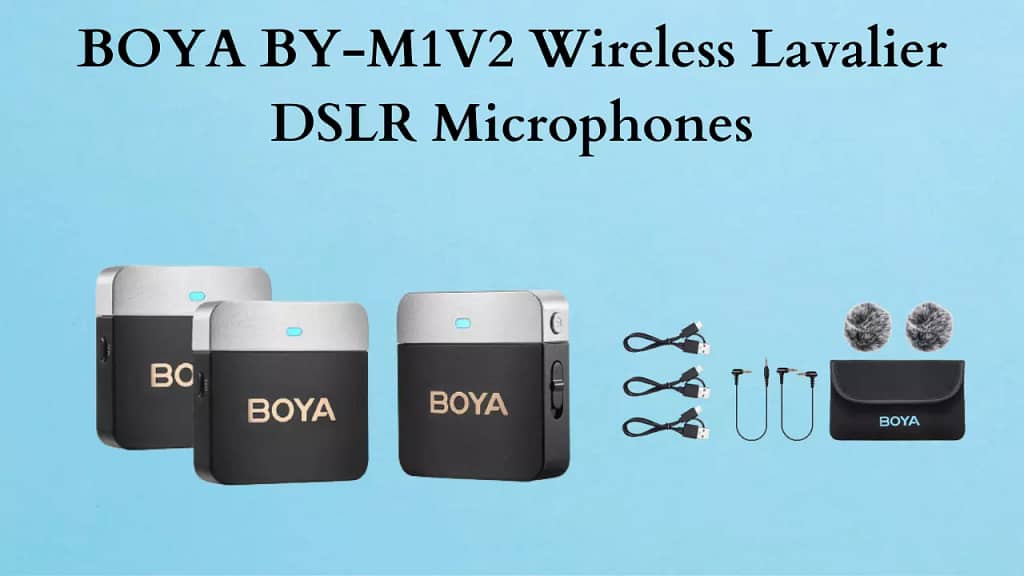 For content creators looking to improve their audio quality for DSLR video projects, the BOYA BY-M1V2 Wireless Lav Mic is an affordable yet feature-rich solution. The BY-M1V2 stands out as an affordable option for aspiring videographers since it provides worry-free convenience and excellent audio capture.
In-depth Features:
The hands-free recording capabilities of the wireless Lav mic system allow presenters, interview subjects, and content producers to move around freely without being constrained by wires.
The clip-on lavalier microphone can be discretely secured to clothing and records crystal-clear, narrow-focus audio from the subject without being overbearing.
A number of uses are made possible by the BY-M1V2 DSLR mics' compatibility with a variety of devices, including DSLR cameras, phones, camcorders, and more.
Strong Wireless Range: You can record sounds from a distance without sacrificing the audio quality thanks to the microphone's strong wireless wide range, which reaches up to 50 metres.
Specifications:
Response to Frequency: 35Hz–18kHz
80 dB Signal to Noise Ratio
Operating wide Range is Up to 50m
Battery life is up to 4.5 hours.
Dimensions (Transmitter): H x W x D = 60 mm x 86 mm
Dimensions (Receiver): H x W x D = 60 mm x 86 mm
Weight of the transmitter: 136g (with battery).
(With battery) 136g for the receiver
X5 Wireless Lavalier DSLR Microphones by FULAIM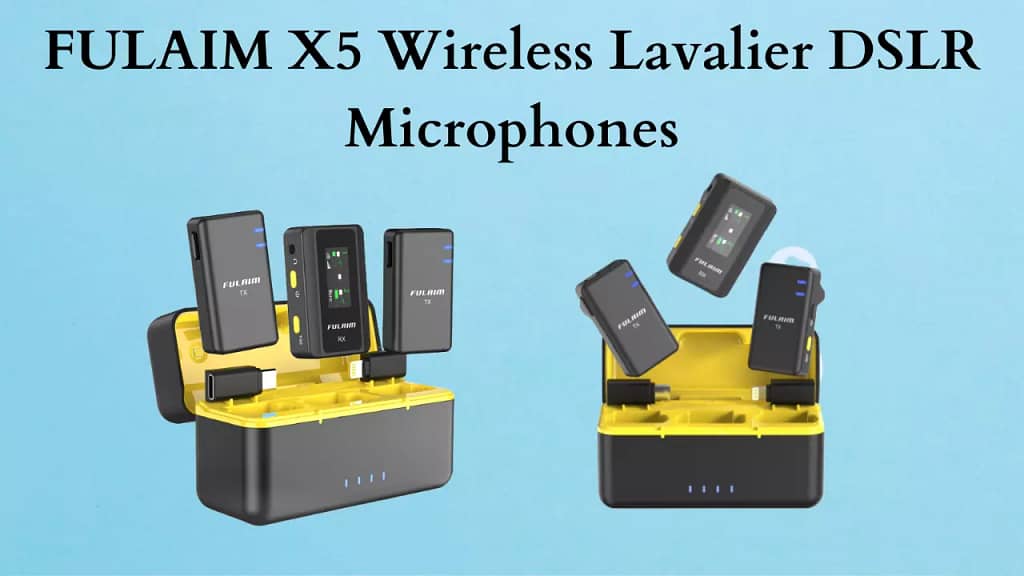 The FULAIM X5 cordless Lavalier Microphones are a premium, cost-effective solution that provides DSLR movie makers with startling sound quality and cordless ease. The X5 stands out as a practical option for anyone looking to improve their audio recording thanks to its small size and user-friendly features.
In-depth Features:
With its wireless Lavalier mic system, the X5 DSLR mics offer hands-free recording, allowing presenters, interview subjects, and content producers to move around freely while maintaining excellent sound quality.
Lavalier clip-on mics are simply fastened to clothing, maintaining the audio source close to the subject and obtaining clean, direct sound.
The X5 DSLR Mics are adaptable and may be used with a variety of devices, including DSLR cameras, smartphones, camcorders, and other devices.
Budget-Friendly: The X5 is an excellent option for both beginners and specialists searching for wireless music without making a sizable investment.
Specifications:
Response to Frequency: 20Hz–20kHz
70 dB Signal to Noise Ratio
Operating Range: Line of Sight Up to 50m
Battery life is Up to 6 hours
Transmitter's dimensions are 85mm x 60mm x 20mm.
Receiver's dimensions are 85mm x 60mm x 20mm.
56g is the transmitter's total weight with the battery.
Weight of the receiver: 56g (with battery).
Future Directions for DSLR Microphones
Both technology and the field of audio capture are constantly evolving. From AI-driven noise reduction to microphones created for virtual reality and augmented reality experiences, we examine the interesting future possibilities. The blending of innovation and audio has the potential to change the way information is produced.
Conclusion
Audio quality cannot be ignored at a time when sensory engagement is the main objective. We've started on a trip that transcends the screen and resonates in the soul by exploring the world of DSLR microphones. Every element contributes to creating a symphony of sights and sounds, from the psychological depth of audio-visual harmony to the practicality of proper microphone types and considerations.
Remember that picking the ideal DSLR video camera microphone is similar to picking a musical instrument as you travel the path of audio competence. It's an expansion of your imagination that turns typical situations into extraordinary ones. In order to create stories that last long after the screen fades to black, heed the call of audio perfection, identify the best microphone choices that suit your vision, and synchronize your audio and images. Nothing less than the brilliance of outstanding sound should be used in your videos.
Frequently Asked Questions (FAQs)
Q1. Why is audio quality so crucial while making videos?
A1: Good audio quality is essential since it has a significant impact on audience engagement and emotional connection. High-quality audio enhances the immersive experience, drawing listeners farther into the story and more successfully attracting their attention.
Q2: What function do DSLR microphones serve in the creation of videos?
A2: DSLR microphones boost the quality of video production by providing immersive, crisp, and clear audio. They complement breathtaking visuals, bridging the gap between what viewers see and hear, and producing an all-encompassing viewing experience.
Q3. How does poor audio affect viewer engagement? 
A3: Unsatisfactory audio can annoy, frustrate, or even turn away viewers. It disrupts the immersive experience, preventing audiences from emotionally connecting with the material, which lowers engagement and worsens retention rates.
Q4. Can you provide examples of videos that have been modified by high-quality audio? 
A4: Definitely. Think of a video interview where every word is perfectly clear, enhancing the dialogue's power. Or picture a nature documentary with flawless background ambient noise that transports you to the middle of a wilderness. These illustrations show how the whole viewing experience is impacted by audio quality.
Q5. How many distinct kinds of DSLR microphones are there? 
A: There are several types, each of which addresses particular circumstances. Lavalier microphones provide hands-free interview solutions, shotgun microphones concentrate on directional audio capture, and stereo best microphones enable spatial audio recording for a more realistic experience.